Years of Growth: Transmuted cores #1A – #6A, 2017
Roslyn Taplin and Jeffrey Tighe
https://www.instagram.com/jefftighe/
ABSTRACT:
This installation is a chronological response to pollution found in six sediment cores collected by British Geological Survey scientists from the River Clyde's estuary with the aim of tracking the Anthropocene. The laser cut acrylic, digitally fabricated "cores" reflect changed levels of pollution from pre-Industrial Revolution, early 1700s, to recent time, early 2000s. The acrylic core layers correspond to years of growth, and more recent Clydeside industrial decline from the 1980s. Pollutants found by scientists were from iron smelting, coal burning and petroleum. They included elevated levels in total petroleum hydrocarbons (TPHs), PCBs (polychlorinated biphenyls), PAHs (polyaromatic hydrocarbons) and lead (Pb).
DESCRIPTION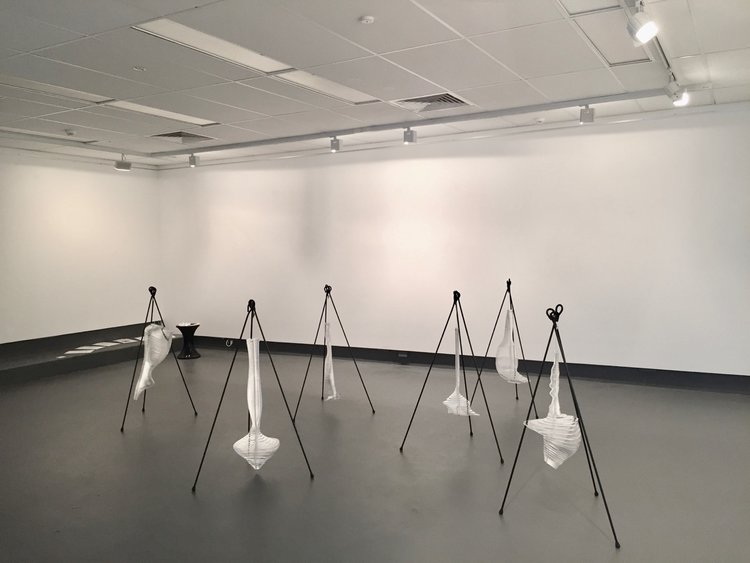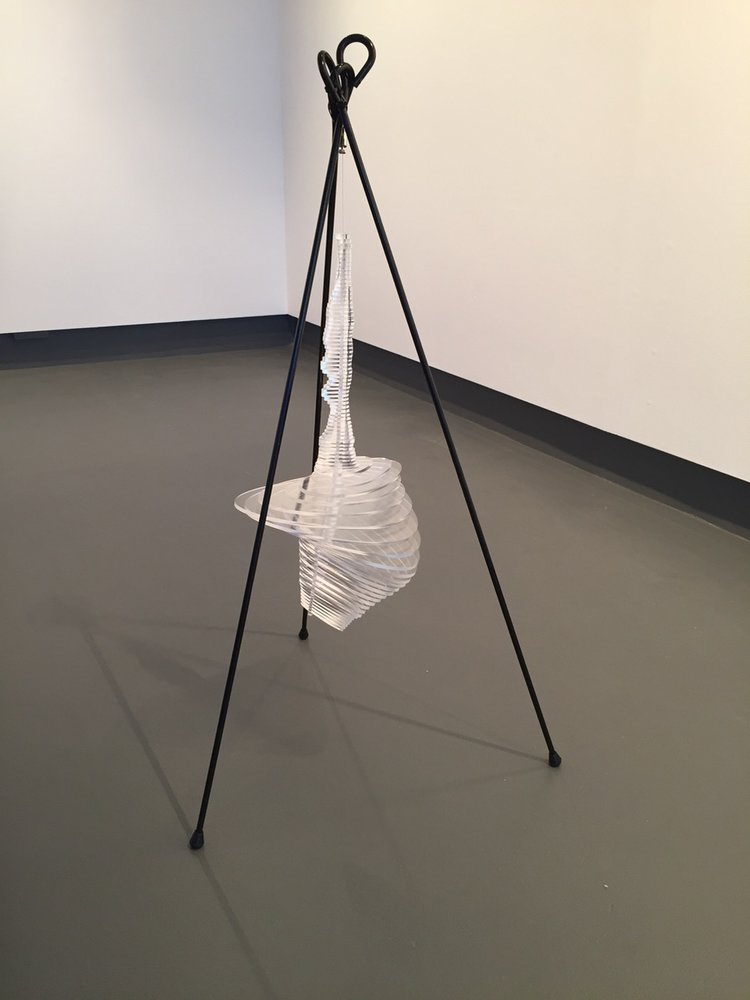 Years of Growth: Transmuted cores #1A – #6A, Installation, 2017 Years of Growth, Installation detail
Digital fabrication – laser cut acrylic, cast iron tripods, perlons, hooks, screws, nuts & cable ties
AUTHOR BIOGRAPHIES:
Roslyn Taplin is an environmental artist and scientist who works at both St Peters, Sydney, Australia and Glasgow Sculpture Studios, Scotland. Her creative 1 outputs include drawing, digital photography, video and installation. In many of her works, she explores the use of glyph or textual information in speeches and documents about the environment and climate change. Her qualifications include both a PhD focusing on the use of science in environmental policymaking and a Doctor of Visual Art (Queensland College of Art). She is a Visiting Scholar at University of Strathclyde and an Adjunct Professor of Environmental Art at University of New South Wales (UNSW) Art & Design where she previously undertook Master's studies. Ros's art research focus is on environment, sustainability and climate change. This flows from her longer-term environmental research career. She has held academic positions at UNSW Sydney, Bond University and Macquarie University, Australia.
Jeffrey Tighe, BDes Arch UTS, is currently a Master of Architecture student at University of Technology Sydney. He is an Architectural Assistant in the @Stukel_Stone Architectural and Design practice, Sydney. He was joint recipient Australian Institute of Architects Undergraduate Design, and Structural Innovation Awards 2015.
Balance-Unbalance 2017
Balance-Unbalance (BunB)
is an International Conference designed to use art as a catalyst to explore intersections between NATURE, SCIENCE, TECHNOLOGY and SOCIETY as we move into an era of both unprecedented ecological threats and transdisciplinary possibilities.
Today Upcoming Events
No upcoming events for today
15 Next Events
No upcoming events for today